Hottest Products
New Products
Unique Products
Closeouts
Quick Ship (3 Days or Less)
USA Made
Union Made
Quote Request
Catalog Request
SHOWROOMS
Halloween
Political Ideas
Cancer Awareness Promos
Back To School
Patriotic Ideas
Fall Promotions
Summer Promotions
Golf Promotions
Spring Promotions
Earth Day Promotions
Valentine Promotions
St. Patrick's Promotions
Trade Shows Promotions
New Year Promotions
Awards & Recognition
Business Gifts
Holiday Greeting Cards
SHOP BY INDUSTRY
Construction
Finance & Insurance
Health Care
Hotels & Hospitality
Real Estate
Restaurants
Safety Programs
School Promotions
Weddings & Anniversarys
CATEGORIES
Apparel, Caps & Jackets
Automotive
Awards & Recognition
Bags, Totes & Packs
Buttons, Magnets, and Stickers
Calendars
Clocks and Watches
Computer Accessories
Desk, Office & Business
Diaries, Journals, and Notepads
Electronics
Fitness, Health, and Safety
Food and Edibles
Games and Novelties
Home and Housewares
Jewelry
Mugs, Cups & Drinkware
Pens, Pencils & Markers
Pocket and Purse Accessories
Sporting Goods
Tools
QUICK LINKS
Videos
Pantone Color Chart
Cost Effectiveness
Blog
Sitemap
Home
Howard Miller Rowland wall clock
Howard Miller Rowland wall clock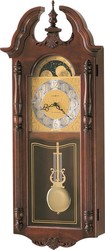 Intricately carved overlays accent the pediment and bottom profile of this Howard Miller wall clock.
Brushed brass finished dial features a fixed blue moon phase and decorative corner ornaments.
Polished brass lyre and grid pendulum is framed with gold tone detailing on the front glass. Open the front door for easy access to set time.
Quartz, dual-chime Kieninger movement plays full Westminster or Ave Maria chimes with strike on the hour, with optional 4/4 chime feature which plays 1/4, 1/2, and 3/4 chimes accordingly.
Volume control, automatic nighttime volume reduction option, and automatic nighttime chime shut-off option.
Requires two C sized batteries (not included).
Finished in Windsor Cherry on select hardwoods and veneers.
Made in the USA.
Normal Production Time:
10 Working Days
Product Size:
32-1/2" x 14" x 5"
Product Weight:
14.1
Made In:
United States
Additional Information:
H. 7/8" x W. 3" Engraved Plate.
Price:


718.26

(Each)

680.46

(Each)

646.44

(Each)